"April…hath put a spirit of youth in everything." (Sonnet XCVIII)

William Shakespeare
As we bring this term to a close, the beautiful weather and taste of spring have brought renewed hope of good times to come. I am delighted to confirm that our Shakespeare project will be taking place this year in the summer term. If the government's road map maintains its positive trajectory, we will be able to share live performances with you, which will be wonderful for our whole school community. We hope the summer term will enable us to increase our ability to work together, both in school and with our families. PiP will begin thinking about a potential summer fair, we can start to plan sports day and children will hopefully be able to go on school trips again – all good times to look forward to.
Thank you to parents/carers that completed the parent questionnaire. Your words of appreciation to the whole staff team, along with suggestions for developments, were welcome. We will respond with the full results and our actions after Easter.
World Autism Awareness Week
This week, children's PSHE sessions were focused on celebrating similarities and differences, based around picture books. There are some great resources online – have a look at this video and share with your children at home:
Further support and information about talking to your children about Autism can be found here: https://www.autismeducationtrust.org.uk/kids-zone/
COVID 19 Track and Trace
We have been asked by the DfE to continue with contact tracing during the first part of the Easter holidays as follows:
Parents and carers only need to inform the school of a positive case where the child developed symptoms within 48 hours of being in their education setting. You are asked to assist in identifying close contacts and advising self-isolation, as the individual may have been infectious whilst in their education setting.
Where pupils test positive for coronavirus during the holidays, having developed symptoms more than 48 hours since being in an education setting, you are not required to take any action. Parents and carers should follow contact tracing instructions provided by NHS Test and Trace.
Dress as a rock star day!
Thank you for your enthusiasm in supporting your children in dressing up as rock stars this week. Please help us keep up this motivation with strong engagement with Times Tables Rock Stars (Y2-Y6) and Numbots (Reception & Y1). Building children's long term memories with fluency facts such as times tables is proven to improve maths progress. Please encourage them to keep practising throughout the Easter holiday so that they continue to develop their fluency. We appreciate that you may well wish to limit their screen time each day, but 'little and often' is the best approach to practising number facts, rather than long sessions once or twice a week. Please note, it is not simply a case of 'knowing the answer': the speed of their recall of number facts is absolutely key. The quicker they can recall a times tables fact, the lower the cognitive load is on their memory, meaning that they can concentrate more of their brain power on making mathematical connections and solving problems. It's all driven by fluency!
Helping us to keep everyone safe
Please can we remind parents of how they can help to keep our school community as safe as possible:
Maintain social distancing outside school at drop off and pick up;
Parents/carers are unable to enter the school building or playgrounds and must drop off at/pick up from the allocated gate;
It is recommended that only one parent/carer drops off and picks up;
If parents/carers are attending a prearranged meeting in school and the necessary distance is not possible, masks will need to be worn.
Christian Value – Forgiveness
Forgiveness supports all our other values, especially friendship, peace and trust. By forgiving others we show compassion, and being forgiven promotes a feeling of thankfulness; these powerful positive emotions help us move forward after fall-outs and mistakes. True and meaningful forgiveness can re-establish trust with others so that relationships are fully restored.
As we ourselves are forgiven by God, we model forgiveness with our children so that they too learn how to forgive. And through forgiveness, the Holy Spirit breathes reconciliation and peace into the world.
Let us remember that it is at Easter that Christians gather to mark God's forgiveness of sins through the death and resurrection of Jesus Christ.
"For God so loved the world that he gave his one and only Son, that whoever believes in him shall not perish but have eternal life."

John 3:16
New Girls Football Development Class (with Coach Steve)
Where: Fleet Primary School, Agincourt Rd, NW3 2QT
When: Every Tuesday
Time: 5:30-6:30pm
Age: 6-10 year olds (Year 2 to Year 5)
Cost: First class is FREE (£6 per class thereafter)
For more info, please email Coach Steve – prorevolution.development@gmail.com
RE: ONLINE – Pupil Blog Competition
We would like our children to be able to share their views about the teaching of religious education. We are signposting the children to a competition where they are asked to write a 500-word blog about why Religion and Worldviews (or RE) matters to them as a school subject. Click on the link below for further information.
https://www.reonline.org.uk/news/pupil-blog-competition/
Food Bank Requests
Thank you to those that have delivered donations to school. Please do keep dropping food off as the need is still great. All non-perishables are welcome but there is a particular need for toiletries, loo paper, baby formula, chocolate treats and nappies in all sizes. Many thanks for your support.
BAME Helpline
Barnardos have a helpline for Black, Asian or Minority Ethnic children, young people and parents/carers, that are affected by Covid-19. They are available to hear about any worries, problems and stresses during this time, and can provide emotional support, practical advice and signposting to other organisations who can provide further help.
Mental Health & Wellbeing
Wellbeing Tip of the Week – 5-minute Self-Head Massage for Relaxation
Try to find time this week to give your head a five-minute self-massage to relieve stress and to help you relax. You can spend up to 30 seconds on each stage.
Start by rubbing the muscles at the back of your neck and shoulders with your fingertips.
Next, use your thumbs to work tiny circles around the base of your skull.
Slowly massage the rest of your scalp with your fingertips.
Then tap your fingers against your scalp, moving from the front to the back and then over the sides.
Now massage your face – start by putting your whole hands over your face and make gentle circular motions.
Now make a series of tiny circles with your thumbs or fingertips. Pay particular attention to your temples, forehead and jaw muscles.
Use your middle fingers to massage the bridge of your nose and work outward over your eyebrows to your temples.
Finally, close your eyes. Cup your hands loosely over your face and inhale and exhale easily for a short while. Make sure you are breathing from your stomach and that your out-breaths are slightly longer than your in-breaths.
Camden Mental Health Support Team

Our school Mental Health Support Team (MHST) are running a series of free webinars for parents and carers, covering the following topics: parent/carer self-care; understanding and supporting your child with worries; routines; and parent/carer and child interactions. Please click here for more information about when they are and how to book a place via Eventbrite.
Camden Healthy Eating Support Team
Dear Parents/Carers,
Camden Learning are offering FREE virtual healthy eating sessions for families. The sessions cover a range of healthy eating support, including: eating well at home; fun breakfast ideas and hidden sugars; understanding labels and portion sizes; and strategies to raise healthy eaters. 'Fussy eating' strategies are discussed in each topic. You are welcome to attend one or all of the sessions. Times and contact details are listed on the flier here.
Royal Academy Young Artist Competition 2021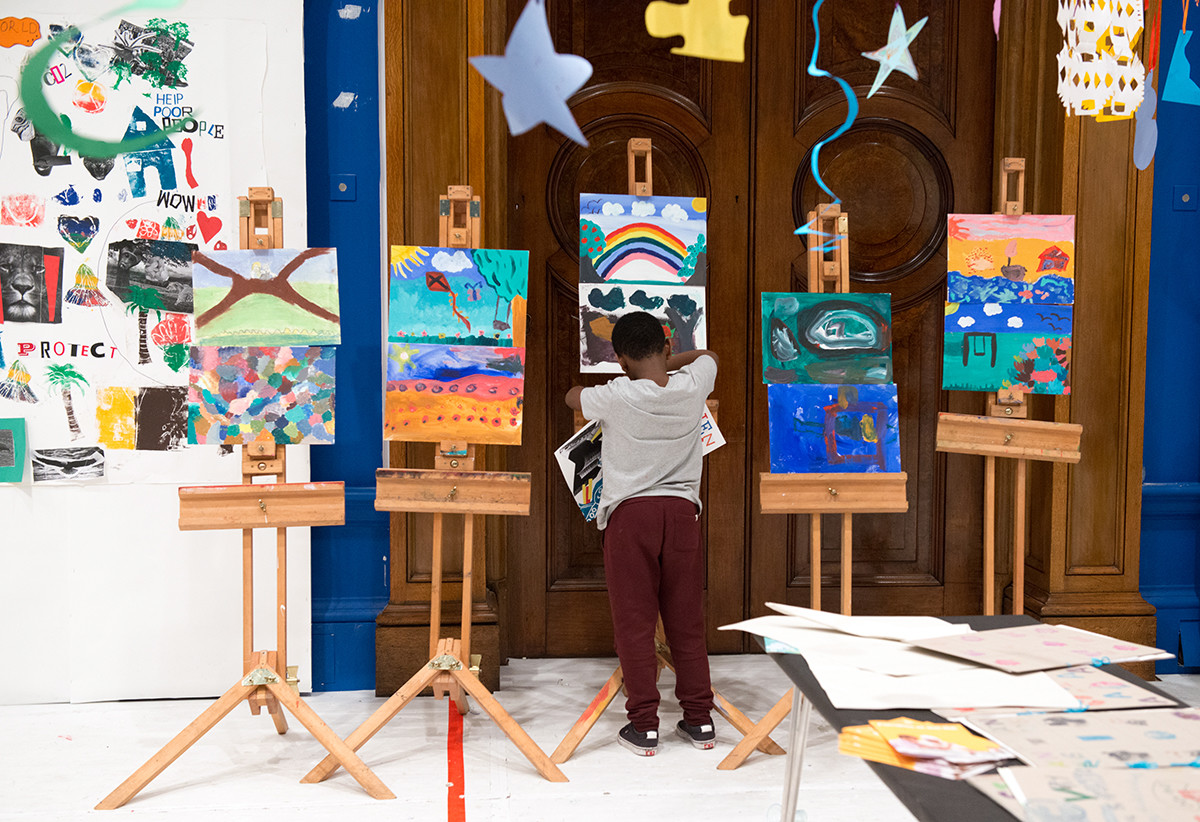 We have registered our school for this competition. Children can enter up to 3 artworks for a chance to be selected for the RA Young Artists' show in the summer. Adults can enter their children's work online (make sure you link to our school), send your artwork to l.stenmark@holytrinitynw1.camden.sch.uk or contact Ms Periton if you need help. This information has also been posted on all the class blogs and on the art blogs.
The closing date is 26 April 2021. For more information go to: https://youngartists.royalacademy.org.uk
Fundraising
Easyfundraising – While shopping online during lockdown, don't forget you can keep raising money for the school via many major retailers. Please click on the link and sign up if you have not already done so.
Community News/Events
Children and Dental Hygiene Parent Advice
Parents may not be fully aware of the fact that dental surgeries are up and running. We urge you to ensure that you take your child to the dentist in order to prevent any unnecessary long term damage or ill health. See additional information and support from the Community Dental Service.
Music
All music lessons are now to face to face at school including:
Individual and group lessons
Class bands
Class recorder
Term dates for 2020 – 2021
| | |
| --- | --- |
| | |
| First day of autumn term | Thursday 3rd September 2020 |
| Half term | Monday 26th – Friday 30th October |
| Last day of autumn term | Friday 18th December |
| First day of spring term | Monday 4th January 2021 |
| Half term | Monday 15th – Friday 19th February |
| Last day of spring term | Thursday 1st April |
| First day of summer term | Monday 19th April |
| Half term | Monday 31st May – Friday 4th June |
| Last day of summer term | Friday 16th July |