Hope is being able to see that there is light despite all of the darkness.

Desmond Tutu
Mr McIntyre and myself have thoroughly enjoyed seeing outcomes of children's home learning that have been uploaded onto Purple Mash. Families have evidently established strong routines and practices to ensure that children are keeping their learning moving forward – such an important component in setting your child up for success.
We appreciate that as the time passes, home learning does not get any easier, especially where families are struggling with keeping their own work and livelihoods afloat. Parents will have seen that their children enjoy some aspects of learning more than others. There is really no harm in using occasions that children are finding things difficult as a reminder to children that this is something that adults can feel too. At school we talk about 'good' mistakes, reminding children that this is key tool in they way they learn and progress. Parents can support their children by modelling a growth mindset. Speaking aloud about your own thought processes when some thing does not go as you wanted or planned will enable children to understand that even if something has not gone right today, you can always try a different way tomorrow. This might be particularly relevant when exploring subjects such as maths, where anxiety can be high, and where encouraging persistence will be valuable. Please remember however that you are not alone: teachers are contactable via Purple Mash and Mr McIntyre and myself are at the end of the phone; we can and do help.
We hope that the lessons this week, related to 'Children's Mental Health,' enabled children and families to further develop strategies that can be drawn on in challenging times – hugely important life skills.
We were very excited by the personal message to our children from Billy Ocean…
Ye​ar 2 have been researching the world's longest rivers this week as part of a week-long Geography project about the Wonders of our World. Mrs Evans was very impressed with the effort and quality of learning.
Whole School Assembly
One of the many things that has been challenging during the current lockdown is finding ways to come together as a school community. In normal circumstances, the whole-school assembly on Friday is such a highlight of each week, and we miss it dearly. With the help of technology, however, we are keen to have the chance to gather as a school before the half-term break. On Wednesday 10th February at 9am we will be holding a virtual assembly via Zoom. The teachers will prepare children in their Zoom sessions on Monday and Tuesday next week. Families are welcome to join us too. It will be a chance for your children to see the pupils and teachers from other classes, and for us to see the lovely faces of our amazing home learners! Please make sure your child joins; the usual class Zoom calls will follow at the slightly later time of 9.30am.
Home Learning Book Collection
As we move towards what we anticipate will be the last couple of weeks of home learning, we have some new packs that children will need for after the half term break. These will be available for collection from school between 9.30am and 4pm on Friday 12th February. Please contact the school office if this is going to be difficult.
Food Bank Requests
Thank you to those that have delivered donations to school. Please do keep dropping food off as the need is still great. All non-perishables are welcome but there is a particular need for toiletries, loo paper, baby formula and nappies. Our thanks for your support.
BAME Helpline
Barnardos have set up a helpline for Black, Asian or Minority Ethnic children, young people and parents/carers, that are affected by Covid-19. They are available to hear about any worries, problems and stresses during this time, and can provide emotional support, practical advice and signposting to other organisations who can provide further help.
Collective Worship
We would like to share Fr Graeme's collective worship with the children and families at home. We will upload this weekly to the school website; please follow this link.
Mental Health & Wellbeing
Wellbeing Tip of the Week – Reach out for help
It is not always easy to ask for help or to reach out to others in times of need. However, asking for support can help us to put things into perspective and gives us time to explore and process some of our feelings. Having a supportive ear also promotes a sense of belonging during challenging times and reminds us that we are not alone. Try to find someone you feel comfortable with, who you know can give you the support you need and be honest with them about what's going on for you. As hard as it may seem at first, you'll feel great once it's off your chest. Remember, people love to help others!
Camden Mental Health Support Team

Our school Mental Health Support Team (MHST) are running a series of free webinars for parents and carers, covering the following topics: parent/carer self-care; understanding and supporting your child with worries; routines; and parent/carer and child interactions. Please click here for more information about when they are and how to book a place via Eventbrite.
Camden Healthy Eating Support Team
Dear Parents/Carers,
Camden Learning are offering FREE virtual healthy eating sessions for families. The sessions cover a range of healthy eating support, including: eating well at home; fun breakfast ideas and hidden sugars; understanding labels and portion sizes; and strategies to raise healthy eaters. 'Fussy eating' strategies are discussed in each topic. You are welcome to attend one or all of the sessions. Times and contact details are listed on the flier here.
Royal Academy Young Artist Competition 2021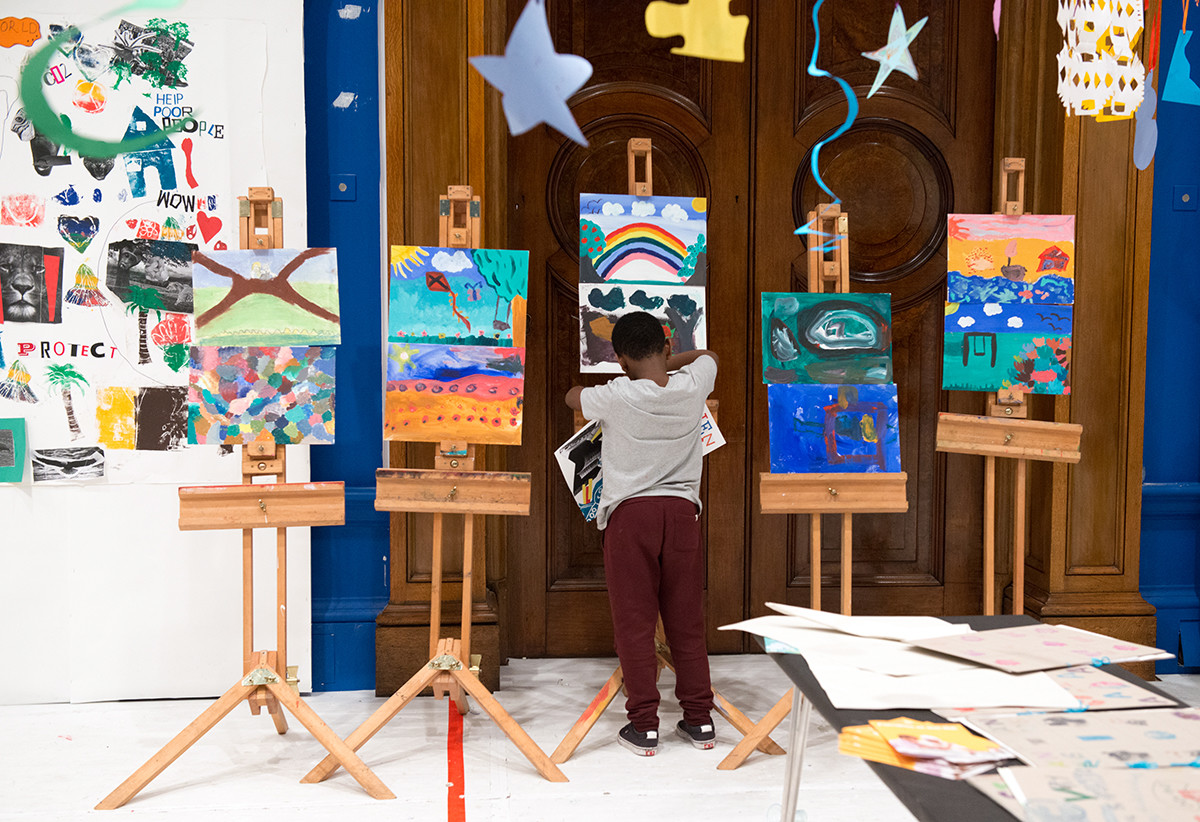 We have registered our school for this competition. Children can enter up to 3 artworks for a chance to be selected for the RA Young Artists' show in the summer. Adults can enter their children's work online (make sure you link to our school), send your artwork to l.stenmark@holytrinitynw1.camden.sch.uk or contact Ms Periton if you need help. This information has also been posted on all the class blogs and on the art blogs.
The closing date is 26 April 2021. For more information go to: https://youngartists.royalacademy.org.uk
Fundraising
Easyfundraising – While shopping online during lockdown, don't forget you can keep raising money for the school via many major retailers. Please click on the link and sign up if you have not already done so.
Christian Value – Endurance
There are so many different ways that we can develop endurance. It is not a skill that one develops overnight; it is something that you have to work on repeatedly over a period of time. If our mindset is fixed in that we easily give up or struggle to believe in ourselves, we will never allow ourselves to have experiences that enable us to feel, or see, what endurance really means. The challenge is interacting and engaging with something that is outside your comfort zone, trying that little bit harder each time. When we believe that we are worthy and capable of overcoming challenges, difficult times or situations without giving up, we become resilient and in turn develop greater endurance.
Endurance comes up many times in Bible verses, which helps us to know that as we work through challenges, God is there by our side as we endure and process this hardship and also in recognizing that if our time of struggle persists for a while, it doesn't mean we are failing at fixing anything, it simply means we are succeeding at enduring.
"Remember that I have commanded you to be determined and confident! Don't be afraid or discouraged, for I, the LORD your God, am with you wherever you go."

Joshua 1:9
Community News/Events
Castlehaven are continuing their online environmental workshops – see below for details.
Music
Camden Music are providing online lessons for children during the period of lockdown. For our Year 3, 4, 5 and 6 class bands, Ms Robertson, Mr DaSilva and Mr Ashby are making videos of recorder/trumpet/trombone lessons, and teachers are providing pupils with links to these via the daily instructions on Purple Mash.
For children who have individual instrumental lessons that parents pay for directly, Camden Music Service have put parents and music tutors in touch to make arrangements so that lessons can continue online. If you have any queries about this, please contact Camden Music Services directly.
Term dates for 2020 – 2021
| | |
| --- | --- |
| | |
| First day of autumn term | Thursday 3rd September 2020 |
| Half term | Monday 26th – Friday 30th October |
| Last day of autumn term | Friday 18th December |
| First day of spring term | Monday 4th January 2021 |
| Half term | Monday 15th – Friday 19th February |
| Last day of spring term | Thursday 1st April |
| First day of summer term | Monday 19th April |
| Half term | Monday 31st May – Friday 4th June |
| Last day of summer term | Friday 16th July |