"No one can whistle a symphony. It takes a whole orchestra to play it."

H. E Luccock
What joy it brings knowing that we are welcoming our whole school community back on Monday morning! Thank you so much for your generous appreciation of the staff song – it was a great boost to us in making it for you.
As we return we want to enable the children to re-establish routines and expectations but during the first week we are also prioritising opportunities for the children to bond again through games, drama and PSHE activities.
It is important to acknowledge that your child might be feeling nervous (this will not always show in obvious ways) and reassure them that everyone will feel the same, including the adults at school! Please reassure them that school will be the same as before, and once through the gate, everything will feel familiar.
A few practical reminders for you to share with your child:
The importance of going to bed in time so that they have enough sleep;
Being ready with everything that is needed for the day – e.g. glasses, reading folders, packed lunch (if you do not have school dinners);
The need to leave home with enough time to arrive at school on time and ready to learn;
We will be here to greet you all.
In preparation for full opening we have again completed a thorough risk assessment for our return to school to ensure that we continue to do all that we can to keep our school community as safe as possible. Please can we remind parents of a couple of important actions to adhere to:
Maintain social distancing outside school at drop off and pick up;
As per government guidelines, it is not obligatory for people to wear masks outside unless you cannot maintain the necessary distance;
Parents/carers are unable to enter the school building or playgrounds and must drop off at/pick up from the allocated gate;
It is recommended that only one parent/carer drops off and picks up;
If parents/carers are attending a prearranged meeting in school and the necessary distance is not possible, masks will need to be worn.
If you have not done so already, please see these resources for parents on supporting the return to school – click here. It may say early years, but the messages apply to all children up to Year 6.
Please see my letter to parents/carers with practical details of opening on Monday: All the details are in the attached letter.
Christian Value – Forgiveness
On Wednesday in our whole school assembly, Fr Graeme talked about the importance of forgiveness. He reminded us that at times we may seek forgiveness for errors in our ways but then we may not always be so prompt in forgiving others. So as we return to school and reunite with our friends and colleagues, let us remember this important message. Let's show the courage to forgive others, even at times when this can be difficult. It is only when we forgive that we can begin to heal.
"Do not judge, and you will not be judged. Do not condemn, and you will not be condemned. Forgive, and you will be forgiven."

Luke 6:37
RE: ONLINE – Pupil Blog Competition
We would like our children to be able to share their views about the teaching of religious education. We are signposting the children to a competition where they are asked to write a 500-word blog about why Religion and Worldviews (or RE) matters to them as a school subject. Click on the link below for further information.
https://www.reonline.org.uk/news/pupil-blog-competition/
Food Bank Requests
Thank you to those that have delivered donations to school. Please do keep dropping food off as the need is still great. All non-perishables are welcome but there is a particular need for toiletries, loo paper, baby formula, chocolate treats and adult nappies. Our thanks for your support.
Multisport Clubs
To sign your child up for multisport clubs, you need to make a payment on Parentpay. There is no multisport club for Reception.
Y1: Thursday mornings, 8.00am-8.45am
Y2: Thursday afternoons, 3.30pm-4.30pm
Y3: Tuesday afternoons, 3.30pm-4.30pm
Y4: Wednesday mornings, 8.00am-8.45am
Y5: Wednesday afternoons, 3.30pm-4.30pm
Y6: Tuesday mornings, 8.00am-8.45am
BAME Helpline
Barnardos have set up a helpline for Black, Asian or Minority Ethnic children, young people and parents/carers, that are affected by Covid-19. They are available to hear about any worries, problems and stresses during this time, and can provide emotional support, practical advice and signposting to other organisations who can provide further help.
Collective Worship
We would like to share Fr Graeme's collective worship with the children and families at home. We will upload this weekly to the school website; please follow this link.
Mental Health & Wellbeing
Wellbeing Tip of the Week – Thoughts are not facts
Sometimes we can experience a flood of negative thoughts that can lead us to question ourselves and our abilities. These thoughts can spiral out of control and leave us feeling low and not good about ourselves. By reminding ourselves that these thoughts are not facts, we can begin to take control of them, rather than letting them control how we feel and behave. We do not have to attach any meaning to them; we can let them come in and out, give them no power and see them as clouds drifting through our minds. Remember that they are not a reflection of reality or of our true selves and we do not have to react to each one. The more we can start to do this, the more we can be in control of our thoughts and not let them affect our mood, our self-esteem and our self-belief.
Camden Mental Health Support Team

Our school Mental Health Support Team (MHST) are running a series of free webinars for parents and carers, covering the following topics: parent/carer self-care; understanding and supporting your child with worries; routines; and parent/carer and child interactions. Please click here for more information about when they are and how to book a place via Eventbrite.
Camden Healthy Eating Support Team
Dear Parents/Carers,
Camden Learning are offering FREE virtual healthy eating sessions for families. The sessions cover a range of healthy eating support, including: eating well at home; fun breakfast ideas and hidden sugars; understanding labels and portion sizes; and strategies to raise healthy eaters. 'Fussy eating' strategies are discussed in each topic. You are welcome to attend one or all of the sessions. Times and contact details are listed on the flier here.
Royal Academy Young Artist Competition 2021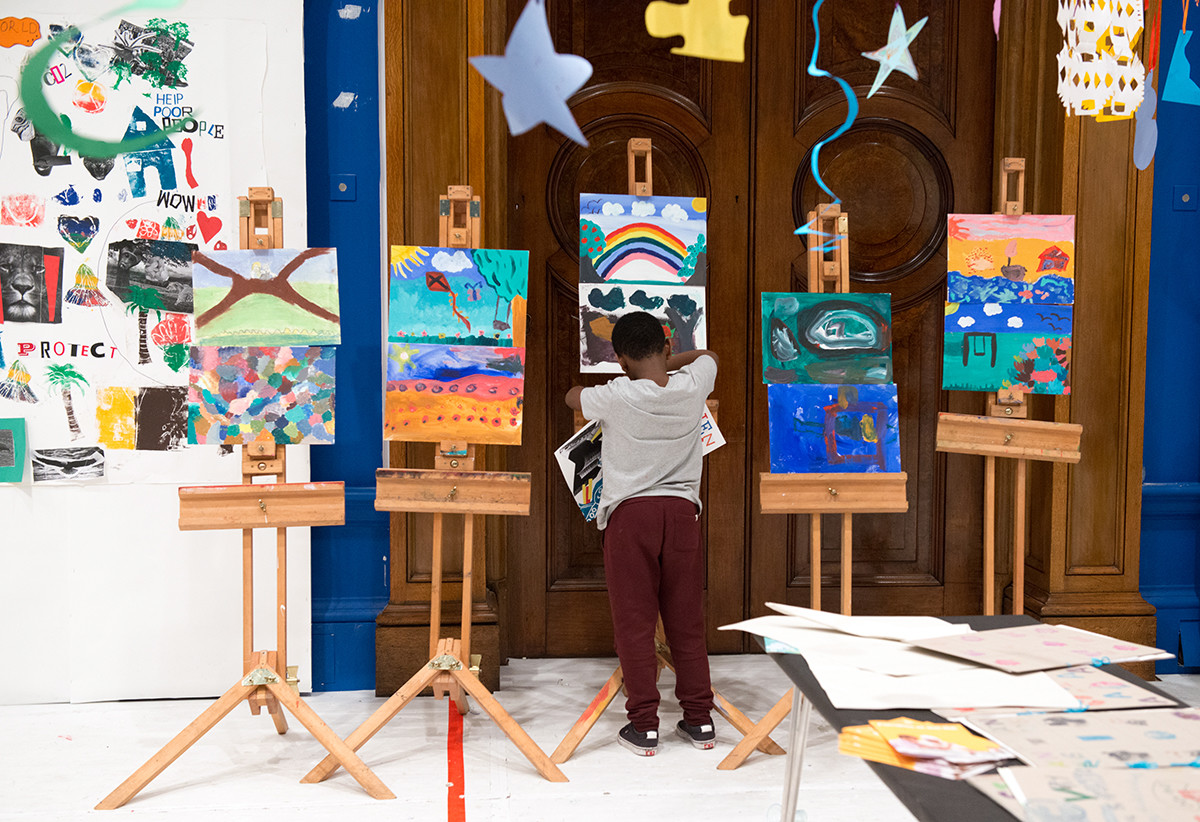 We have registered our school for this competition. Children can enter up to 3 artworks for a chance to be selected for the RA Young Artists' show in the summer. Adults can enter their children's work online (make sure you link to our school), send your artwork to l.stenmark@holytrinitynw1.camden.sch.uk or contact Ms Periton if you need help. This information has also been posted on all the class blogs and on the art blogs.
The closing date is 26 April 2021. For more information go to: https://youngartists.royalacademy.org.uk
Fundraising
Easyfundraising – While shopping online during lockdown, don't forget you can keep raising money for the school via many major retailers. Please click on the link and sign up if you have not already done so.
Community News/Events
If you are looking for a change of activity for your children, here is a link to some alternative exercise workouts: https://app.sworkit.com/collections/kids-workouts
Castlehaven are continuing their online environmental workshops – see below for details.
Music
All music lessons will return to face to face at school from Monday 8th March including:
Individual and group lessons
Class bands
Class recorder
Term dates for 2020 – 2021
| | |
| --- | --- |
| | |
| First day of autumn term | Thursday 3rd September 2020 |
| Half term | Monday 26th – Friday 30th October |
| Last day of autumn term | Friday 18th December |
| First day of spring term | Monday 4th January 2021 |
| Half term | Monday 15th – Friday 19th February |
| Last day of spring term | Thursday 1st April |
| First day of summer term | Monday 19th April |
| Half term | Monday 31st May – Friday 4th June |
| Last day of summer term | Friday 16th July |