Happy Chinese New Year! Wishing you happiness and prosperity in the year of the ox.
"I can do things you cannot, you can do things I cannot; together we can do great things."

Mother Teresa
We were all filled with joy to see the children at the whole-school assembly on Wednesday! We hope that it was a boost to you and your children too. We felt the slump from many children in the past week and wanted to do something to pick us all up. We needed to come together as a community to remind ourselves that we still have each other. It also reminded us how easy it can be to follow a route of no hope but we cannot and will not let this happen. We all need to be proactive: we all need to make ourselves do something that keeps us moving forward and brings us comfort. Such activities as the ones below will renew and sustain – along with another whole-school virtual assembly on the first Wednesday after half term (24th February).
Singing, dancing or playing a musical instrument
Going out for a walk (while following the government guidance)
Making something – cooking, creating, building
I sincerely hope that everyone takes some time out over half term to do things that make you feel happy. While home learning might have made reading seem like work in a more negative sense, please remember to use the next week to renew the pleasure and enjoyment of reading – read aloud to your children, reread favourite books, read different kinds of texts – and let books take you to another world…
Parents Evening
Many of you have already signed up for parents evening which will be taking place after half term via Zoom. I urge you to book a date as soon as possible; as you would expect, we will be contacting families that have not booked a date by 22nd February. It is the school expectation that all parents meet their child's class teacher to discuss their progress and achievements, as well as to seek any support needed.
Ms Periton has updated the school art page with some wonderful home learning works of art…
We thought we would leave this very special message from Billy Ocean on the newsletter for you to enjoy!
Food Bank Requests
Thank you to those that have delivered donations to school. Please do keep dropping food off as the need is still great. All non-perishables are welcome but there is a particular need for toiletries, loo paper, baby formula and nappies. Our thanks for your support.
BAME Helpline
Barnardos have set up a helpline for Black, Asian or Minority Ethnic children, young people and parents/carers, that are affected by Covid-19. They are available to hear about any worries, problems and stresses during this time, and can provide emotional support, practical advice and signposting to other organisations who can provide further help.
Collective Worship
We would like to share Fr Graeme's collective worship with the children and families at home. We will upload this weekly to the school website; please follow this link.
Mental Health & Wellbeing
Wellbeing Tip of the Week – Develop a self-care toolkit
During times of stress or worry, it can be helpful to draw upon healthy coping strategies to distract and re-ground ourselves. To find out what works best for you, start by experimenting with different activities you enjoy and see if they have any positive effects on your wellbeing. Here are some examples: going for a walk on your own; engaging in arts/crafts activities; practising mindfulness; doing some exercise; listening to music or even having a rest or a relaxing bath. According to research, self-care activities keep us healthy, reduce stress and help to prevent burnout.
Camden Mental Health Support Team

Our school Mental Health Support Team (MHST) are running a series of free webinars for parents and carers, covering the following topics: parent/carer self-care; understanding and supporting your child with worries; routines; and parent/carer and child interactions. Please click here for more information about when they are and how to book a place via Eventbrite.
Camden Healthy Eating Support Team
Dear Parents/Carers,
Camden Learning are offering FREE virtual healthy eating sessions for families. The sessions cover a range of healthy eating support, including: eating well at home; fun breakfast ideas and hidden sugars; understanding labels and portion sizes; and strategies to raise healthy eaters. 'Fussy eating' strategies are discussed in each topic. You are welcome to attend one or all of the sessions. Times and contact details are listed on the flier here.
Royal Academy Young Artist Competition 2021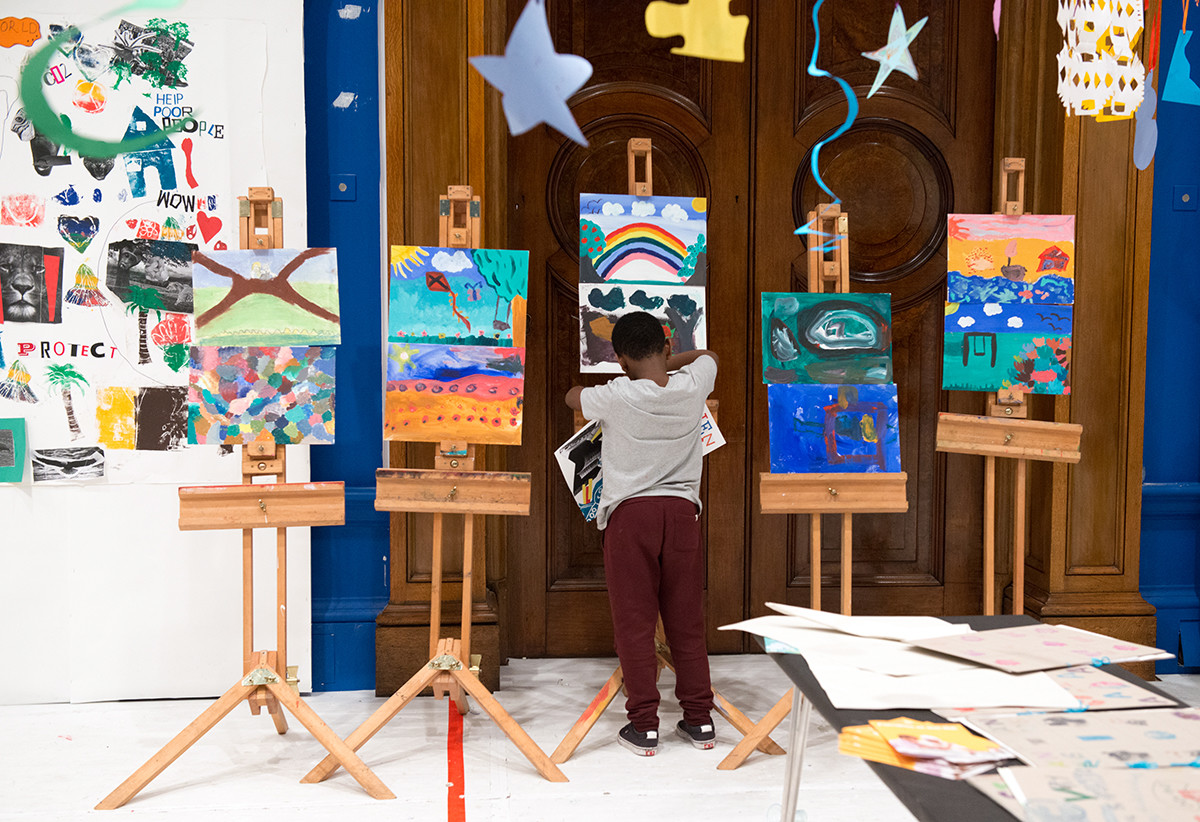 We have registered our school for this competition. Children can enter up to 3 artworks for a chance to be selected for the RA Young Artists' show in the summer. Adults can enter their children's work online (make sure you link to our school), send your artwork to l.stenmark@holytrinitynw1.camden.sch.uk or contact Ms Periton if you need help. This information has also been posted on all the class blogs and on the art blogs.
The closing date is 26 April 2021. For more information go to: https://youngartists.royalacademy.org.uk
Fundraising
Easyfundraising – While shopping online during lockdown, don't forget you can keep raising money for the school via many major retailers. Please click on the link and sign up if you have not already done so.
Christian Value – Endurance
When life knocks you down and you are quick to pick yourself up and adapt to the circumstances, this is a good sign that you are developing endurance. You will have increased confidence in taking risks, trying new things, and coping with any difficult situations that life may throw at you, along with a better sense of who you are. This will enable you to show increased commitment in establishing routines and habits that cultivate success.
Challenges, change and adversity will be seen as opportunities rather than threats; you are likely to be flexible and agile and will have have the courage and confidence to reach your full potential. You will learn from your mistakes. When reflecting on the development of endurance, we are reminded that there are only positive gains to be had so it is always worth putting in that extra bit of effort.
Be on your guard; stand firm in the faith; be courageous; be strong.

Corinthians 16:13
Community News/Events
If you are looking for a change of activity for your children, here is a link to some alternative exercise workouts: https://app.sworkit.com/collections/kids-workouts
Castlehaven are continuing their online environmental workshops – see below for details.
Music
Camden Music are providing online lessons for children during the period of lockdown. For our Year 3, 4, 5 and 6 class bands, Ms Robertson, Mr DaSilva and Mr Ashby are making videos of recorder/trumpet/trombone lessons, and teachers are providing pupils with links to these via the daily instructions on Purple Mash.
For children who have individual instrumental lessons that parents pay for directly, Camden Music Service have put parents and music tutors in touch to make arrangements so that lessons can continue online. If you have any queries about this, please contact Camden Music Services directly.
Term dates for 2020 – 2021
| | |
| --- | --- |
| | |
| First day of autumn term | Thursday 3rd September 2020 |
| Half term | Monday 26th – Friday 30th October |
| Last day of autumn term | Friday 18th December |
| First day of spring term | Monday 4th January 2021 |
| Half term | Monday 15th – Friday 19th February |
| Last day of spring term | Thursday 1st April |
| First day of summer term | Monday 19th April |
| Half term | Monday 31st May – Friday 4th June |
| Last day of summer term | Friday 16th July |