If you have good thoughts, they will shine out of your face like sunbeams and you will always look lovely.

Roald Dahl
The school was buzzing this week – adults and children in tandem! The school was alive with music and a cheerful bustle. We have enjoyed looking in some depth at children's home learning packs; thank you for returning them as requested. While teachers were able to track children's progress from work uploaded and Zoom lessons, there was additional work set in the packs that we will use in completing our picture of children's engagement in home learning. We will not be using language that you may hear in the media about 'catch up' and 'learning loss', however we will make contact with parents if we assess that a child's progress has been impacted by not completing tasks set by teachers. We will work together on enabling every child to fulfil their potential.
Helping us to keep everyone safe
Please can we remind parents of how they can help to keep our school community as safe as possible:
Maintain social distancing outside school at drop off and pick up;
As per government guidelines, it is not obligatory for people to wear masks outside unless you cannot maintain the necessary distance;
Parents/carers are unable to enter the school building or playgrounds and must drop off at/pick up from the allocated gate;
It is recommended that only one parent/carer drops off and picks up;
If parents/carers are attending a prearranged meeting in school and the necessary distance is not possible, masks will need to be worn.
We need your help!
It has come to our attention that a site in very close proximity to the school (under the railway arches on Hartland Road) has applied to Camden for a change of licence. This proposal has been pushed through without the necessary transparency required, including putting up notices of the proposed change of use. The business, Farmdrop, has applied to become a hub for deliveries to consumers via Deliveroo. This would result in a significant increase in traffic, especially mopeds, which as we have seen daily completely ignore the fact that they should not be driving through the bollards outside the school. We are very concerned about the risks this would pose to our children and families, both from a safety perspective as well as health. One of Camden's reasons for putting up the bollards was to reduce the risk of pollution to our young children. Along with local residents, we have written to local councillors with our objections but the more voices that shout out, the greater the chance of success. If you would like to add your voice to ours, please email licensing@camden.gov.uk and make your objections known. You could also email local councillors Lazzaro.Pietragnoli@camden.gov.uk, Richard.Cotton@camden.gov.uk and Patricia.Callaghan@camden.gov.uk to ask for their support. Please follow this link for more information in the form of a template letter, which you can copy and use in your email if you wish.
Christian Value – Forgiveness
We place a great deal of importance on forgiving others, as we should, but must remember that it is equally important to know how to forgive ourselves. All of us make mistakes at times. As humans, we are not perfect. The trick is to learn and move on from our mistakes. As painful and uncomfortable as it may feel, there are things in life that are worth enduring the pain for in order to move forward, and forgiving ourselves is one of them.
Forgiveness is important to the healing process; it allows you to let go of the unhappy feelings you may be experiencing, and move on. Once you identify what you're feeling, give a voice to it and accept that mistakes are inevitable, you will begin to see how freeing forgiveness can be.
If we confess our sins, he is faithful and just and will forgive us our sins and purify us from all unrighteousness.

John 1:9
RE: ONLINE – Pupil Blog Competition
We would like our children to be able to share their views about the teaching of religious education. We are signposting the children to a competition where they are asked to write a 500-word blog about why Religion and Worldviews (or RE) matters to them as a school subject. Click on the link below for further information.
https://www.reonline.org.uk/news/pupil-blog-competition/
Food Bank Requests
Thank you to those that have delivered donations to school. Please do keep dropping food off as the need is still great. All non-perishables are welcome but there is a particular need for toiletries, loo paper, baby formula, chocolate treats and adult nappies. Our thanks for your support.
BAME Helpline
Barnardos have a helpline for Black, Asian or Minority Ethnic children, young people and parents/carers, that are affected by Covid-19. They are available to hear about any worries, problems and stresses during this time, and can provide emotional support, practical advice and signposting to other organisations who can provide further help.
Mental Health & Wellbeing
Wellbeing Tip of the Week – Managing anxiety about returning to school
The return to school after a second closure indicates some progress with Covid-19, and some of us may breathe a sigh of relief that the children are back. However, some of us might be quite anxious about the return to school. Whether we are anxious about safety, or concerned about how much has changed, or the impact this has had on our mental health (amongst other things), there are things we can do to manage some of our anxiety. Try to focus on the positives of returning back to 'normal', the safety measures put in place to keep everyone safe in school, how resilient you might have found yourself to be, and any skills and positive experiences you have gained from this. For example, spending quality time together as a family, finding more creative ways to keep busy and stay connected, and having more reflection time to think and grow from our experiences.
Camden Mental Health Support Team

Our school Mental Health Support Team (MHST) are running a series of free webinars for parents and carers, covering the following topics: parent/carer self-care; understanding and supporting your child with worries; routines; and parent/carer and child interactions. Please click here for more information about when they are and how to book a place via Eventbrite.
Camden Healthy Eating Support Team
Dear Parents/Carers,
Camden Learning are offering FREE virtual healthy eating sessions for families. The sessions cover a range of healthy eating support, including: eating well at home; fun breakfast ideas and hidden sugars; understanding labels and portion sizes; and strategies to raise healthy eaters. 'Fussy eating' strategies are discussed in each topic. You are welcome to attend one or all of the sessions. Times and contact details are listed on the flier here.
Royal Academy Young Artist Competition 2021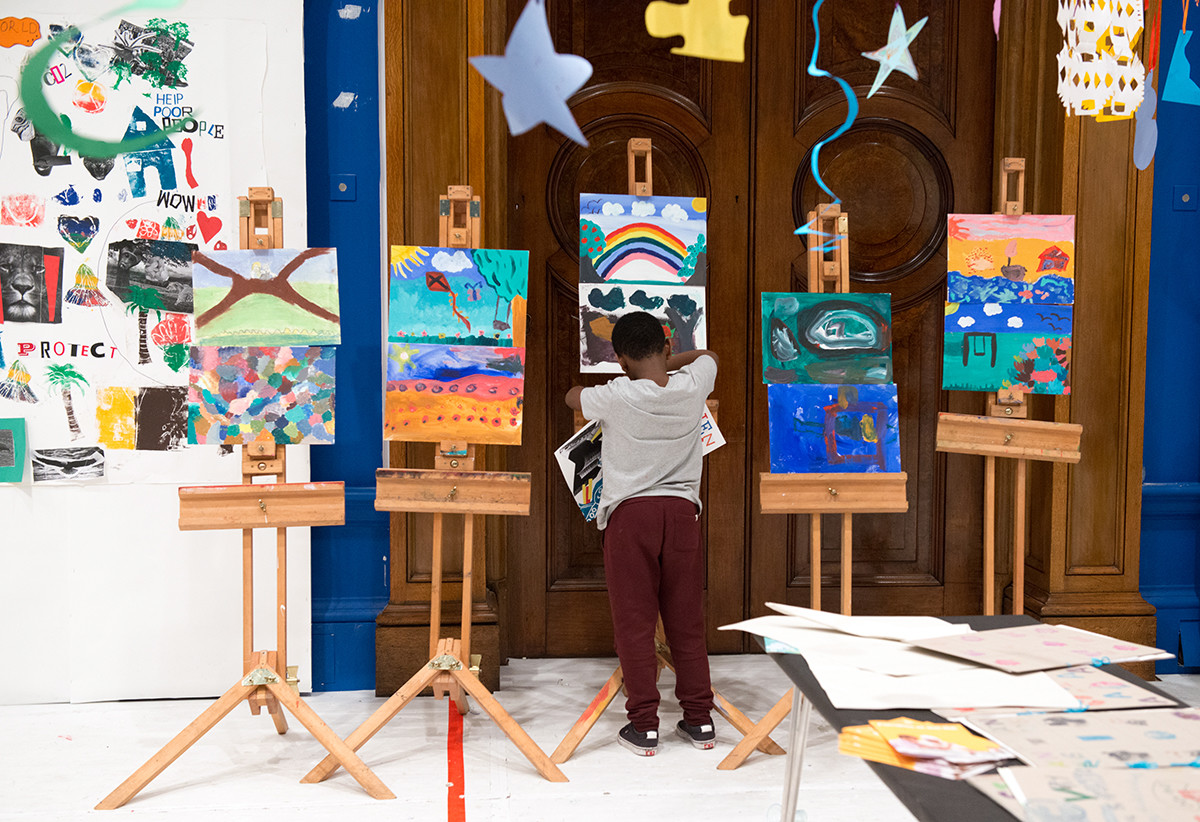 We have registered our school for this competition. Children can enter up to 3 artworks for a chance to be selected for the RA Young Artists' show in the summer. Adults can enter their children's work online (make sure you link to our school), send your artwork to l.stenmark@holytrinitynw1.camden.sch.uk or contact Ms Periton if you need help. This information has also been posted on all the class blogs and on the art blogs.
The closing date is 26 April 2021. For more information go to: https://youngartists.royalacademy.org.uk
Fundraising
Easyfundraising – While shopping online during lockdown, don't forget you can keep raising money for the school via many major retailers. Please click on the link and sign up if you have not already done so.
Community News/Events
Children and Dental Hygiene Parent Advice
Parents may not be fully aware of the fact that dental surgeries are up and running. We urge you to ensure that you take your child to the dentist in order to prevent any unnecessary long term damage or ill health. See additional information and support from the Community Dental Service.
On the subject of dental health, all children in the infant classes were given an NHS leaflet this week about flouride varnishing. Thank you to those parents/carers who have filled in and returned the leaflet before today's deadline; if you would like your child to have this protective application at school, you can still return the completed leaflet to the school office on Monday next week (the office also has spare copies if needed). The dental team will be visiting the school on Tuesday.
Music
All music lessons are now to face to face at school including:
Individual and group lessons
Class bands
Class recorder
Term dates for 2020 – 2021
| | |
| --- | --- |
| | |
| First day of autumn term | Thursday 3rd September 2020 |
| Half term | Monday 26th – Friday 30th October |
| Last day of autumn term | Friday 18th December |
| First day of spring term | Monday 4th January 2021 |
| Half term | Monday 15th – Friday 19th February |
| Last day of spring term | Thursday 1st April |
| First day of summer term | Monday 19th April |
| Half term | Monday 31st May – Friday 4th June |
| Last day of summer term | Friday 16th July |