"The best way to cheer yourself up is to try to cheer somebody else up."
Mark Twain
At school we have begun to remind ourselves to think about something that we are grateful for. In these challenging times, we need ways to switch our minds to something good, from noticing the morning light to a home made treat delivered to the door. We must continue to dig deep and not allow ourselves to be sucked into the media hype that continues to feed anxiety. The uncertainty endures but the light of hope still shines and it will get brighter.
The children have been impressing their teachers with their effort and enthusiasm with home learning. We are now in full flow with new learning and all subjects are timetabled in through the week including Coach Steve's PE lessons, class band videos and Ms Periton's inspiring art lessons. Some teachers will also be timetabling an additional writing group Zoom session from next week. An outline of our remote education provision is now available on our website for parents' information.
Feedback on Purple Mash
We sent out an email to Year 1-6 parents clarifying what children and/or parents need to do in order to see teacher responses to work uploaded into children's Purple Mash work folders. Please carefully read the letter attached.
Food Bank Requests
We would like to support a local food bank that is in urgent need of provisions. As a response to our recent text, we have gratefully received a few items but want to urge and encourage parents that are able to give more. All donations can be delivered to the school office at any time in the day. All non-perishables are welcome but there is also a need for toiletries, loo paper, baby formula and nappies. Our thanks for your support.
Collective Worship
We would like to share Fr Graeme's collective worship with the children and families at home. We will upload this weekly to the school website; please follow this link.
Wellbeing Tip of the Week
Take things one step at a time
It's hard to know how things are going to look in 1 week, 1 month or even 1 year from now. This can be quite daunting to think about and might cause some anxiety. Instead of focusing on this, try a strategy called "chunking" – breaking things down into manageable pieces. If you have a big piece of work you need to get done or a stressful day ahead, try 'chunking' your time into bite-sized pieces or make yourself a 'To Do' list so you can tick things off as you go. At the end of your day, you can look back and be proud of all the chunks you managed to achieve.
Camden Mental Health Support Team

Our school Mental Health Support Team (MHST) are running a series of free webinars for parents and carers, covering the following topics: parent/carer self-care; understanding and supporting your child with worries; routines; and parent/carer and child interactions. Please click here for more information about when they are and how to book a place via Eventbrite.
Camden Healthy Eating Support Team
Dear Parents/Carers,
Camden Learning's FREE virtual healthy eating sessions for families. The sessions cover a range of healthy eating support, including: eating well at home; fun breakfast ideas and hidden sugars; understanding labels and portion sizes; and strategies to raise healthy eaters. 'Fussy eating' strategies are discussed in each topic. You are welcome to attend one or all of the sessions. Times and contact details are listed on the flier here.
Royal Academy Young Artist Competition 2021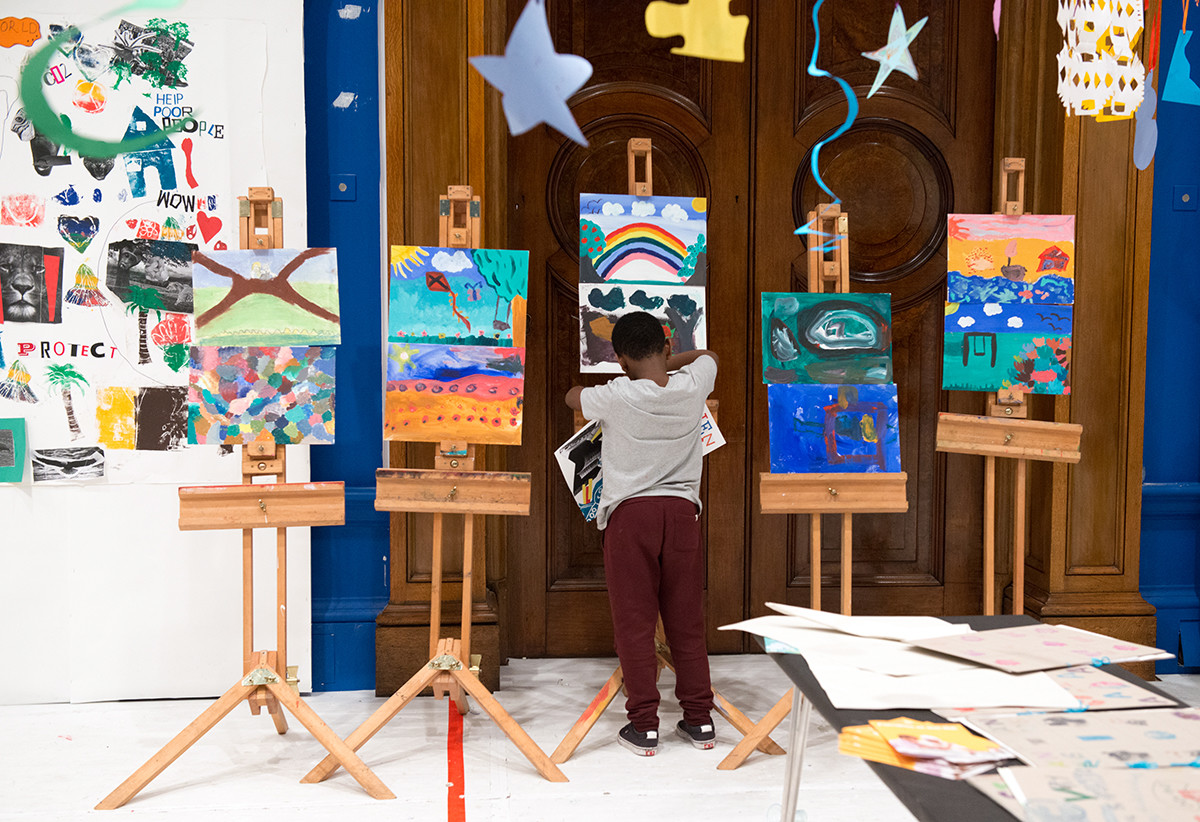 We have registered our school for this competition. Children can enter up to 3 artworks for a chance to be selected for the RA Young Artists' show in the summer. Adults can enter their children's work online (make sure you link to our school) or contact Ms Periton if you need help. This information has also been posted on all the class blogs and on the art blogs.
The closing date is 26 April 2021. For more information go to: https://youngartists.royalacademy.org.uk
Fundraising
Easyfundraising – While shopping online during lockdown, don't forget you can keep raising money for the school via many major retailers. Please click on the link and sign up if you have not already done so.
Christian Value – Endurance
Elite athletes are disciplined in their training, enduring strenuous practice routines, because they are focused on the goal of succeeding in their chosen sport. They push themselves to endure pain during a race by focusing on pre‑planned thoughts and goals. At times of challenge, whether it be in our faith or in our belief in ourselves or others, we must focus our thoughts on how we can achieve our goals and overcome our trials. While some of us will turn to Jesus for encouragement and strength, we can also be inspired by the example of heroic or courageous individuals, whether they are close to us or well known in the world.
Music
Camden Music are providing online lessons for children during the period of lockdown. For our Year 4, 5 and 6 class bands, Mr DaSilva and Mr Ashby will be making videos of trumpet and trombone lessons, which we will post to the Music page of the school website.
For children who have individual instrumental lessons that parents pay for directly, Camden Music Service have put parents and music tutors in touch to make arrangements so that lessons can continue online. If you have any queries about this, please contact Camden Music Services directly.
Term dates for 2020 – 2021
| | |
| --- | --- |
| | |
| First day of autumn term | Thursday 3rd September 2020 |
| Half term | Monday 26th – Friday 30th October |
| Last day of autumn term | Friday 18th December |
| First day of spring term | Monday 4th January 2021 |
| Half term | Monday 15th – Friday 19th February |
| Last day of spring term | Thursday 1st April |
| First day of summer term | Monday 19th April |
| Half term | Monday 31st May – Friday 4th June |
| Last day of summer term | Friday 16th July |