"Good humour is one of the best articles of dress one can wear in society."

William Thackeray
It was bitter news to hear that we would not be bringing the children back to school after half term. We now lift ourselves back up and hold on to 8th March as a likely reopening; the shoots of recovery are certainly growing. We might be quick to doubt what we are told, but maintaining a positive and hopeful outlook with ourselves and our children will safeguard the mental health and wellbeing of all.
It has been an additionally challenging week in school with many of our lovely staff being unwell with COVID and the closure of our Reception and Y5/Y6 bubbles. The plus side of this has been that staff self isolating have been able to put their skills to supporting home learning through Zoom meetings and giving feedback to work uploaded onto Purple Mash. Previously teachers had been focusing on responding to children's work in live Zoom lessons and would check Purple Mash daily to see the uploaded work. Once staff are back in school next week, the teachers will continue with live feedback as well as responding to some pieces of uploaded work. We hope that the additional adult input this week will have given the children a boost.
Food Bank Requests
Thank you to those that have delivered donations to school. Please do keep dropping food off as the need is still great. All non-perishables are welcome but there is a particular need for toiletries, loo paper, baby formula and nappies. Our thanks for your support.
BAME Helpline
Barnardos have recently set up a helpline for Black, Asian or Minority Ethnic children, young people and parents/carers, that are affected by Covid-19. They are available to hear about any worries, problems and stresses during this time, and can provide emotional support, practical advice and signposting to other organisations who can provide further help. 
Collective Worship
We would like to share Fr Graeme's collective worship with the children and families at home. We will upload this weekly to the school website; please follow this link.
Mental Health & Wellbeing
Next week is Children's Mental Health week and teachers have planned activities for children including:
Lessons focused on the themes of gratitude, kindness and resilience
Daily mental health practices
Ten Minutes Peace breathing videos
Sharing the 'Young Voices' song in which Billy Ocean has recorded a song with an exclusive message for our children
An 'Inside out day!' on Wednesday 3rd Feb – children will be asked to wear an item of clothing 'inside out' to remind us that how we look on the outside, isn't always how we feel on the inside.
This is a link to a leaflet from the Anna Freud Centre "Never too Young to Talk About Mental Health"
Parents/carers will receive an email with information, resources and a link to an online assembly to watch with their children.
Wellbeing Tip of the Week – Find the lesson
This whole crisis can seem depressing, frustrating and emotionally draining. One way to work through it is to focus on the potential positive outcomes and the things we can learn from our experience. What have you learnt about yourself and how you cope in stressful situations? What might you do differently if faced with a difficult situation in the future? What changes can you make in your day-to-day life to prepare you to cope better and build your resilience? For example, you could practise self-regulation exercises such as deep breathing (breathe in for 5 seconds and out for 7 seconds) or letting go of the things outside of your control. 
Camden Mental Health Support Team

Our school Mental Health Support Team (MHST) are running a series of free webinars for parents and carers, covering the following topics: parent/carer self-care; understanding and supporting your child with worries; routines; and parent/carer and child interactions. Please click here for more information about when they are and how to book a place via Eventbrite.
Camden Healthy Eating Support Team
Dear Parents/Carers,
Camden Learning are offering FREE virtual healthy eating sessions for families. The sessions cover a range of healthy eating support, including: eating well at home; fun breakfast ideas and hidden sugars; understanding labels and portion sizes; and strategies to raise healthy eaters. 'Fussy eating' strategies are discussed in each topic. You are welcome to attend one or all of the sessions. Times and contact details are listed on the flier here.
Royal Academy Young Artist Competition 2021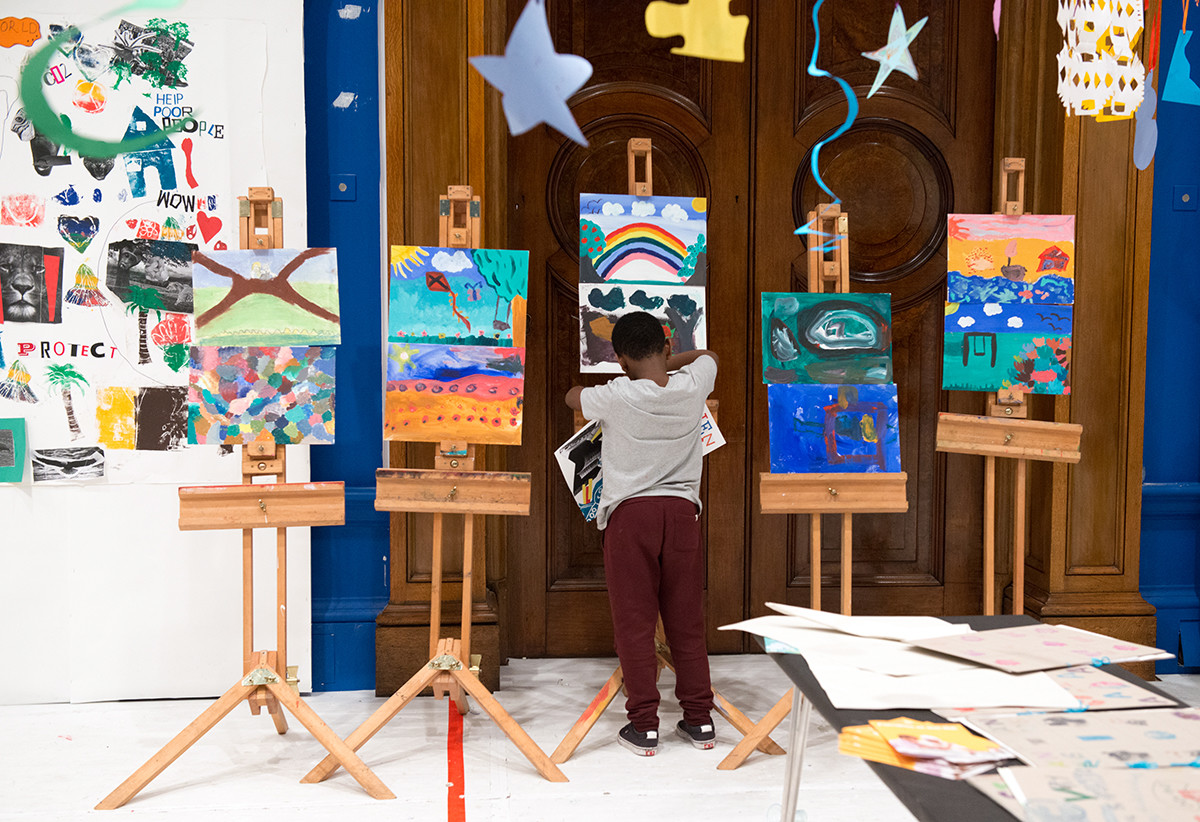 We have registered our school for this competition. Children can enter up to 3 artworks for a chance to be selected for the RA Young Artists' show in the summer. Adults can enter their children's work online (make sure you link to our school), send your artwork to l.stenmark@holytrinitynw1.camden.sch.uk or contact Ms Periton if you need help. This information has also been posted on all the class blogs and on the art blogs.
The closing date is 26 April 2021. For more information go to: https://youngartists.royalacademy.org.uk
Fundraising
Easyfundraising – While shopping online during lockdown, don't forget you can keep raising money for the school via many major retailers. Please click on the link and sign up if you have not already done so.
Christian Value – Endurance
One of the hobbies that has seen a particular revival during periods of lockdown has been completing jigsaw puzzles. When you first start you are filled with excitement and enthusiasm, even when faced with up to a thousand pieces or more! But it is not that long before the job just seems insurmountable and so you give up and it goes under the bed to gather dust.
For those that maybe just take a break and return a day or two later, there is a renewed drive, and progress is made. This practice may be one that will continue over a period of time, before reaching the joy and satisfaction of completion. When our children are involved in this process, we are helping them to move forward in developing greater endurance and perseverance.
When things in life are challenging, even jigsaw puzzles, the easy response is to give up but the Bible teaches us that when we keep on trying, choosing obedience over emotions, we will eventually experience a "second wind," a renewal of God's strength to sustain us and see us through.
"Let us run with determination the race that lies before us. Let us keep our eyes fixed on Jesus….He did not give up…" (Hebrews 12:1-2)
Music
Camden Music are providing online lessons for children during the period of lockdown. For our Year 3, 4, 5 and 6 class bands, Ms Robertson, Mr DaSilva and Mr Ashby are making videos of recorder/trumpet/trombone lessons, and teachers are providing pupils with links to these via the daily instructions on Purple Mash.
For children who have individual instrumental lessons that parents pay for directly, Camden Music Service have put parents and music tutors in touch to make arrangements so that lessons can continue online. If you have any queries about this, please contact Camden Music Services directly.
Term dates for 2020 – 2021
| | |
| --- | --- |
| | |
| First day of autumn term | Thursday 3rd September 2020 |
| Half term | Monday 26th – Friday 30th October |
| Last day of autumn term | Friday 18th December |
| First day of spring term | Monday 4th January 2021 |
| Half term | Monday 15th – Friday 19th February |
| Last day of spring term | Thursday 1st April |
| First day of summer term | Monday 19th April |
| Half term | Monday 31st May – Friday 4th June |
| Last day of summer term | Friday 16th July |